Stelle Laser has released its Third Generation Intelligent Diode Laser on Nov. 18th.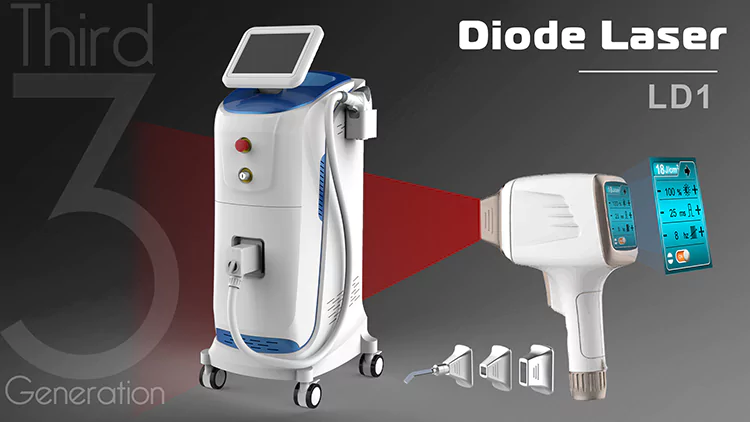 With this most high-tech and advanced new diode laser handle, we offer many different models for option.
Please see below the models that we can do based on this diode laser technology.
Diode Laser with latest 3rd Generation Intelligent Handle
For diode laser we can do both 808nm and mixed triple wavelengths 755nm 808nm 1064nm. Please feel free to choose any shell design you like.
Multifunctional Beauty Machine with 3rd Generation Intelligent Diode Laser
For multifunctional lasers we can do from 2 handles to 5 handles, including:
2 handles: Diode Laser + IPL or Diode Laser + ND Yag
3 handles: Diode Laser + IPL + ND Yag
4 handles: Diode Laser + Elight IPL SHR + ND Yag + RF
5 handles: Diode Laser + Elight IPL SHR + ND Yag + RF + 980nm vascular removal
Highlight of the 3rd Generation Diode Laser Handle:
– 3 treatment tips
– Intelligent recognition of tips
– Handle inbuilt monitoring system
– Super power 1200W
– Big LED screen easy operation
– Amazing cooling
The 3rd Generation Diode Laser
The 3rd Generation Diode Laser Handle comes with 3 treatment tips 
– Body Tip: with super big spot size 15*30mm, greatly improved the treatment efficience and shorten the treatment time.
– Facial Tip: with 15*15mm spot size, considered to be the most classical size for facial area treatment, such as face hair removal and lip hair removal.
– Nose Tip: with 8mm diameter small spot size, this tip makes nose hair removal possible for many men and women who is bothering by the nose hair.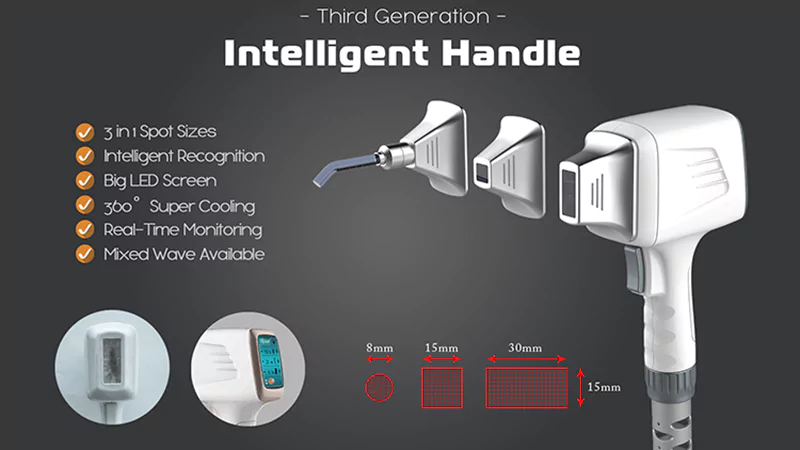 Intelligent Recognition
We use 3D magnetic technology of 3 tips, you can put any tip and it will intelligent recognize which tip you have putted then automatically give the most recommended parameters for treatment
Thanks to the intelligent software, with 3 treatment tips this new Generation Diode Laser Handle is still very easy to use.
It can intelligent recoginize which tip you have putted to the handle and automatically giving the pre-set parameters under this treatment tip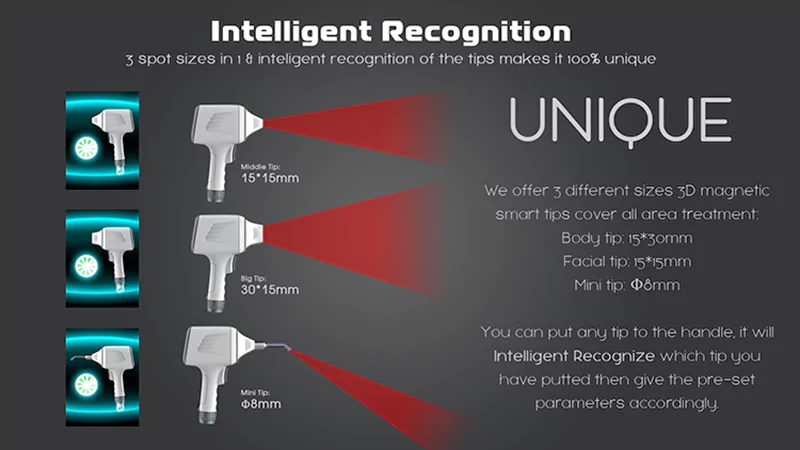 Big LED Screen, High Power
The big LED screen in our handle is also a highlight. Unlike other company's machines, this screen in our handle is not just for displaying a simple logo, more importantly, it allows the customer to control the machine directly from screen.
Besides, we use super power 1200W for this handle which makes it the most powerful diode laser in the market!
Notice! Our 1200W is 100% real 1200W! It is same with other company's fake advertising of 2400W laser! We hate fake advertising and we never do fake advertising!
360° Super Cooling
With the special connection design between tips and handle, we can ensure the cooling effect of the tips is super strong thus ensure truly painless treatment. Within 30 seconds the tempreture can go from 25 degrees to 0 degrees.
And in the real treatment, with cooling level 4, the treatment tip's real-time tempreture can always stay at -4 degrees! Truly painless and pleasant experience!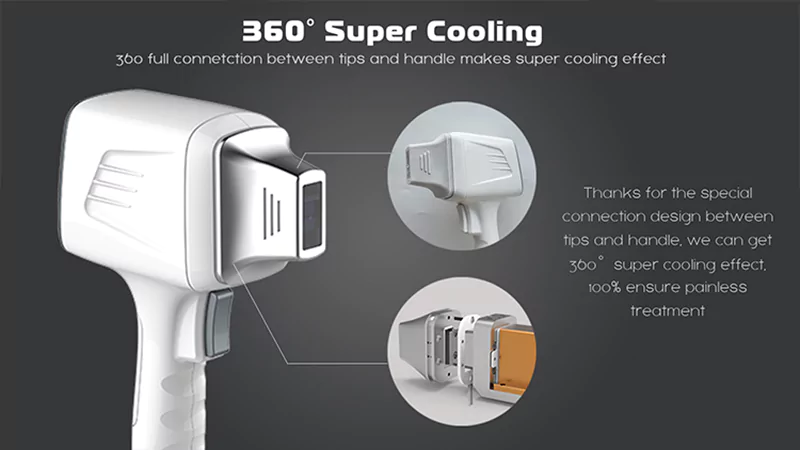 Real-Time Monitoring
Handle inbuilt monitoring system can detect the real-time cooling tempreture and output energy, protecting machine and patient every second. It controls the Sapphire crystal temperature at constant 4℃, well ensures the skin is well protected.
Please see below some real photo of this Third Generation Intelligent Diode Laser handle and machines: