Hollywood Carbon Peel Facial Machine is very effective for treating acne, melasma, and enlarged pores. Improves skin's texture, tone and elasticity while also reversing sun damage, acne scarring, age spots, and freckles.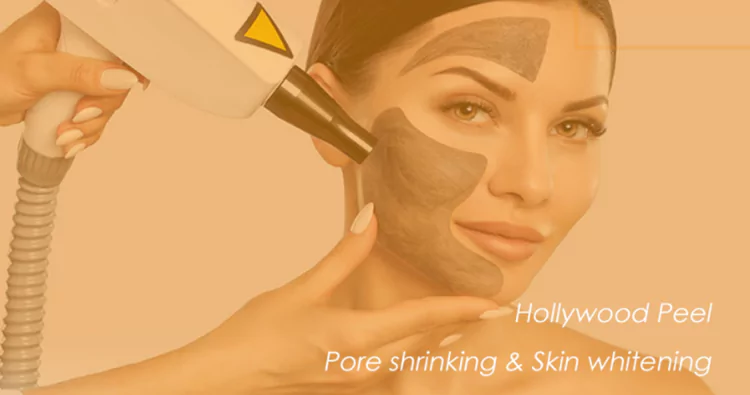 What Does Hollywood peel Do Exactly?
Unique skin rejuvenation
Acne all types
Large pores
Sun Damage
Remove fine wrinkles
Remove hyperpigmentation
Melasma
Yellow or oily skin
Removes acne scars
How The Hollywood Carbon Peel Works
First, a layer of carbon lotion is applied to your skin. Once the mask is set, the Adonyss PrismaLaze Q-Switch laser is moved over the skin.
It works in two ways:
(1) by breaking up the pigmentation in the skin, which allows it to be removed by the body
(2) by heating the skin, which triggers the production of collagen and elastin.
You may hear some snapping sounds as the laser moves across the surface of your skin, and you may feel some warmth or mild tingling, but the procedure is comfortable and doesn't even require a topical anesthetic. The majority of our patients report no pain at all.
As the laser moves over your skin, it takes off the carbon layer along with a superficial layer of skin cells. The best part? The entire treatment time is only approximately 10 minutes!
If you have any questions about our carbon peel lasers, please feel free to contact us!
Hollywood Carbon Peel Facial Machines You May Like
Stelle Laser is professional beauty machine manufacturer in China. Our ND Yag Laser machines is exported to worldwide with very positive feedback. We offers both portable nd yag laser and vertical nd yag lasers. The portable nd yag laser model APQ1  with small size and strong power is very hot selling is Europe. Looking for cooperatation in nd yag laser machines with more global agents. If you interested in getting more information, please feel to drop us an inquiry !