IPL machine functions covers hair removal, photofacial, acne treatment etc. It usually equipped with sever filters. The filters usually varies from 400nm – 1200nm.
The commonly seen filters are: 420nm-1200nm, 480nm -1200nm, 530nm -1200nm, 590nm-1200nm, 640nm -1200nm, 690nm- 1200nm, 750nm -1200nm etc..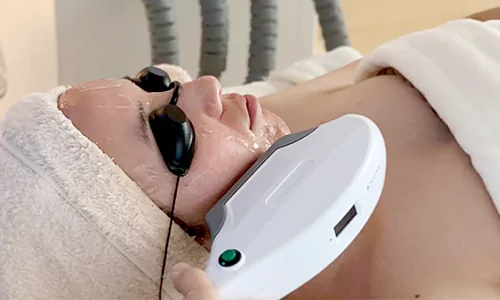 Below are the 5 filters we offer for all our IPL machines, and their functions:
1). 480nm~1200nm: Acne treatment
2). 530nm~1200nm: Vascular treatment, photofacial for light skin.
3). 590nm~1200nm: Pigmentation treatment, photofacial for dark skin.
4). 640nm~1200nm: Hair removal for light skin
5). 690nm~1200nm: Hair removal for dark skin
Why we choose these filters and why these filters has these functions? We have explain from the wavelength. Please see below picture:
600-1200nm has a deep penetration depth into the skin, which is called the first treatment window. 400-600nm has a medium penetration depth into the skin.
From 400-1200nm, the penetration depth of light to the skin is basically proportional to the wavelength.
Why Choose IPL 480nm -1200nm Filter For Acne Treatment?
Many reasons may cause the broken capillaries. But once facial veins appear, they can't be repaired. The only way to reduce their appearance is to remove them with professional facial vein treatment, such as the IPL vascular treatment. But why and how IPL 530nm remove the facial veins?
The absorption peaks of hemoglobin are 415 nm, 540 nm, and 580 nm.
Since the short wavelength of <480nm has a tanning effect, it should be avoided in the treatment of vascular diseases. It is best to choose near the two peaks of 540-580nm, and the lower limit should be close to 540nm rather than 580nm. Therefore, most of the treatment of vascular diseases is the lower limit of wavelength between 500-600nm. We choose 530nm as the lower limit value for the vascular therapy which has been proved has very good effect.
Why Choose IPL 590nm -1200nm Filter For Pigmentation Treatment?
Also in order to avoid the side effects of <480nm, and considering that melanin is only distributed in the epidermis, shallow penetration is required.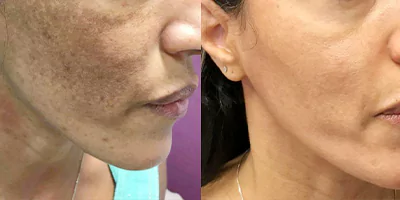 Therefore, using 590nm wavelength can effectively remove melanin. At the same time, it can also remove wrinkles and rejuvenate the skin, as well as remove the pigmentation.
Why Choose IPL 640nm / 690nm -1200nm Filter To Do Hair Removal Treatment?
The root of the hair is 3-5mm under the epidermis, so hair removal requires a wavelength that penetrates deeper into the soft tissue.
At the same time, due to the large size of the hair follicle to be destroyed, its diameter is 30-100 nm, and a long wavelength with high photothermal conversion efficiency is also required. On the other hand, if the wavelength is too short, the melanin in the epidermis will absorb the most of energy first before it entering to the hair follicle.Such heat will be generated in the epidermis, which may cause epidermal burn. So the lower limit value of hair removal treatment shall be 640nm. If client skin doesn't has much melanin (skin tone is fair), 640nm filter is ok. If client skin has melanin, or client skin tone is darker, we suggest to choose 690nm filter.
It is never too late to buy an IPL machine for your salon. You can get back all the investiment after just 3 clients!
Stelle Laser is professional beauty machine manufacturer in China. As the leading manufacturer for such IPL devices, we offers both portable and vertical IPL models. All IPL related models we ensure 1 million long lifespan which can be used at least 3-4 years.  Looking for cooperatation with more global agents. If you interested in getting more information, please feel to drop us an email or simply tab the WhatsApp icon to start an online conversation!