Spider veins are small red or purple blood vessels that appear on the surface of the skin. They are often seen as unsightly blemishes on facial, legs and arms. There are many different types of laser for spider vein treatment today. One such treatment is called spider vein removal using a 980nm diode laser.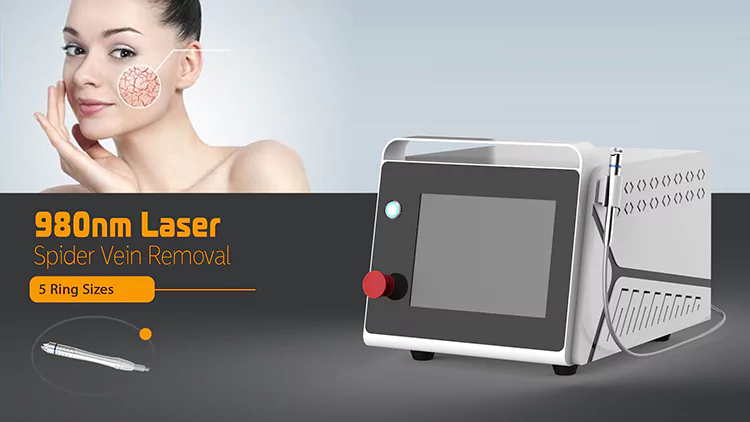 Laser Therapy For Spider Vein Treatment
During diode laser 980 nm treatment, a laser is used to destroy the blood vessels. The laser transmits light waves that are absorbed by the red blood cells in the veins. Heat is then produced within the veins, causing them to shrink and disappear. 980 nm Laser therapy is very effective for facial Spider Vein Treatment.
It may also be used to treat other areas of the body such as legs. However, it is not recommended for treating leg veins because they are often too deep to reach with the laser beam.
With any treatment, there are risks associate with it, though they are minimized by the professional machine produced by Stelle Laser.
These possible risks include:
Pain
Swelling
Discoloration
Bleeding
Infection
Scarring
Crusting

How To Prepare For The Spider Vein Treatment?
Before the procedure Spider Vein Treatment, a dermatologist will typically review your medical history and perform a physical examination. During this visit, patients may discuss expected results and possible complications associated with the treatment.
They should avoid:
Sunbathing, tanning bed exposure and waxing for 2 weeks before the procedure.
Taking any medications including aspirin, ibuprofen, naproxen, acetaminophen (Tylenol) or herbal supplements because they can increase the risk of bleeding.
What To Expect After Spider Vein Treatment?
After the procedure, patients may experience some minor side effects such as:
Redness and/or swelling around the treated areas.
Slight tingling or burning sensations during the treatment process.
Some patients may feel discomfort due to the pressure of the applicator on the skin.
These symptoms typically last only a few minutes and then subside.
Most patients can resume normal activities immediately following the treatment session.
After the Spider Vein Treatment:
Patients should avoid applying makeup or lotion directly to the treated areas for either 24 hours or for as long as any signs of irritation remain.
They should apply a good moisturizing lotions to the treated areas twice daily for the duration and for at least three month after the last treatment.