In this article, we will explore the different types of laser hair removal devices from Stelle Laser suitable for different depilation treatment needs. As every client's skin and hair type is unique, we have developed a range of technologies to address diverse requirements. Let's examine the features and benefits of our different systems so you can determine the best solution for your practice and patient population.
Whether choosing a system based on treatment area, hair color, skin type or other factors, Stelle Laser offers precision engineered solutions. We aim to help practitioners select the most appropriate equipment to achieve the best results for their clients while maximizing revenue and practice success. Please reach out to learn how we can help evaluate your specific needs and recommend the ideal beauty device to match.
As the weather heats up, hair removal is always the best treatment that can bring great profit for your salon. So salon owners should consider get a good laser hair removal machine before summer comes. Please read here: What is a diode laser hair reduction machine?
Our diode systems are perfect for clients who regularly sunbathe yet still want long-lasting hair reduction. With a wavelength of 810nm, Stelle diode lasers effectively reach deep into tanned and dark skin tones to remove even the thickest hair from the root.
This makes them ideal for targeting the client demographics currently active in summer months. While sun-lovers may be deterred by other modalities, our diode laser treatments assure they can enjoy the beaches and pools hair-free.
Practitioners profit more by catering to diverse beauty needs year-round. Stelle diode lasers allow consistent, safe results across all skin types so your clients stay loyal.
Their quality, power and patented contact cooling also mean fast treatments and high client throughput. Minimize downtime and maximize revenue potential as demand grows warmer.
Rely on Stelle Laser for professional equipment perfectly calibrated for your busiest seasons. 
Contact us today to discuss incorporating our diode systems and attracting more summer clientele for your bottom line.
While diode lasers are an excellent option for summer months, IPL or intense pulsed light hair removal is another technology worth considering.
Stelle Laser's IPL machines like the APL1 use flashes of broad spectrum light to target multiple pigments simultaneously.
IPL works by being absorbed into the melanin, or pigment, in the hair follicle. The light energy is then converted to heat which destroys the hair follicle. By damaging the follicle, IPL interrupts the hair growth cycle and slowly reduces hair growth over a series of 4-8 treatments, depending on the individual.
Additionally, Stelle Laser's IPL system can safely and effectively treat a variety of aesthetic issues beyond just hair reduction. Its broadband pulses target multiple pigments at once to:
Remove both fine vellus and coarse terminal hair.

Reduce redness, dilated capillaries and rosacea.

Diminish brown spots, sun damage and age spots.

Tighten and firm skin by stimulating collagen production.
The combination of effective multi-application and versatility allows practitioners to cross-sell additional treatments during a client's hair removal package. It opens the door to new clientele seeking multi-purpose beauty treatments.
Together with affordable prices, minimal maintenance and our expert training support, IPL systems offers salons an easy investment to boost profits all year long. 

Diode Laser or IPL SHR OPT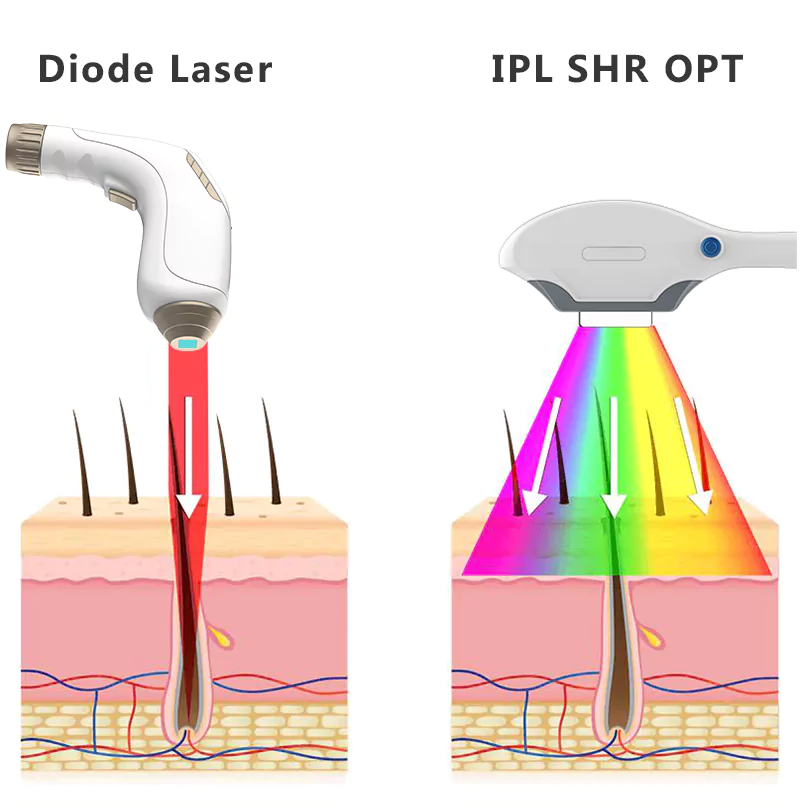 Since both diode laser and IPL machine can do hair removal treatment, what are their differences and which type of machine shall I choose for my salon?
Here are the key differences between diode laser and IPL hair removal machines and factors to consider when choosing:
Hair Color Treated – Diode lasers work best on darker hairs due to its specific wavelength. IPL uses a broader spectrum that works on lighter hairs like blond/grey in addition to dark.
Skin Type – Diode is suitable for all skins. IPL works well on lighter skins like II-IV but can cause hypopigmentation in darker skins V-VI.
Treatment Area – Diode handpieces typically cover smaller spots, making it slower for large areas. IPL handpieces contour to bodies for faster whole body treatments.
Cost – Diode machines have a higher initial investment but run costs are lower. IPL is more affordable initially but replacement bulbs raise longterm costs.
Versatility – Diode is mainly for hair removal. IPL can also treat pigmented lesions, boost collagen for skin rejuvenation.
For more details, please read this article: Difference Between Diode Laser And IPL Machine 

For best results matching client needs, consider a dual diode-IPL machine. But for lighter skins or those wanting an affordable multifunctional device, an IPL like Stelle's APL1 may be most suitable. 
If you still not sure which machine to choose, please don't hesitate to contact with our professional team to get recommendations according to your demand!