In the market, most IPL machine's lifespan is around 300,000 shots. Some factories with good quality IPL lamp (such as UK Firstlight IPL lamp, German Heraeus IPL lamp) might reach 500,000 shots; while some factories with poor quality IPL lamp (local Chinese brand lamps) has only less than 100,000 shots.
When our sales manager introduce that our IPL SHR machine is 1 million shots IPL (1,000,000 shots), please don't doubt that he is bragging or he might type one more zero. Thanks to our most reasonable internal structure, the lifespan of Beijing Stelle Laser's IPL machine is indeed 1 million shots.
Firstly we'd like to share 2 feedbacks from our clients, see below: 
These 2 photos are screenshot from client feedback video, so you may find it is not very clear, but still if you check carefull you will see the lifespan counter numbers.
Photo in the left is feedback from Germany, lifespan is already over 1 million shots, and machine still works in perfect status.
Photo in the right is feedback from Iran, lifespan is nearly 600,000 shots, and machine still works in perfect status.
Chect Out Our Lifespan Test For 1 Million shots IPL
We have literally spend an IPL handpiece to do the lifespan test, below are the videos we took at different shots:
IPL lifespan test at 300,000 shots:
When you see this video, please kindly notice there are 2 extra korea imported water filters inside the machine. Unlike Diode Laser, xenon lamp is not that sensitive to water impurities, so usually in IPL machine nobody will adopt water filters, we are the only one who has water filters in IPL. And we are not using just 1 water filter, we use 2.
IPL lifespan test at 500,000 shots: 
From this video, you can see the water filter's color is darker than 300,000 shots. This means water filters is playing a very important function in protecting xenon lamp in the IPL.
IPL lifespan test at 700,000 shots:
This is video at 700,000 shots, please also kindly notice all the test was done in 13-15J instead of 1J,  this tested energy is enough for hair removal.
IPL lifespan test at 900,000 shots:
This is video at 900,000 shots, you can see the energy output is still very stable and powerful at 900,000 shots.
And below is a photo, right is the original color of the water filters, left is the color at 900,000 shots. Water filters has filter out the impurities and ions from water, so it well protected our UK imported xenon lamp, and has played a key role in this 1 million shots IPL machine.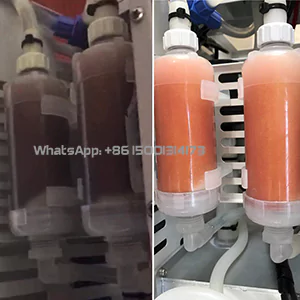 Stelle Laser is professional beauty machine manufacturer in China. As the leading manufacturer for such IPL devices, we offers both portable and vertical IPL models. All IPL related models we ensure 1 million long lifespan which can be used at least 3-4 years.  Looking for cooperatation with more global agents. If you interested in getting more information, please feel to drop us an email or simply tab the WhatsApp icon to start an online conversation!