The 808 freezing point Laser Depilation Machine is an advanced laser hair removal method introduced at present.
It adopts the gold standard 808 wavelength semiconductor laser technology for hair removal, adhering to all the advantages and characteristics of the 808nm semiconductor laser, and creatively upgrades and integrates the laser technology.
At the same time of hair removal efficiency, the laser output energy is more uniform, the cooling comfort is further improved, the failure rate of the laser instrument is greatly reduced, and its life is also greatly improved, the operating hand tools are also lighter, and the hair removal efficiency is greatly improved.
Aggregate a number of patented technologies to become the king of hair removal technology.
Porfessional Laser Depilation Machine treatment speed is 3-5 times faster than the traditional one, truly achieving rapid, pain-free and permanent hair removal.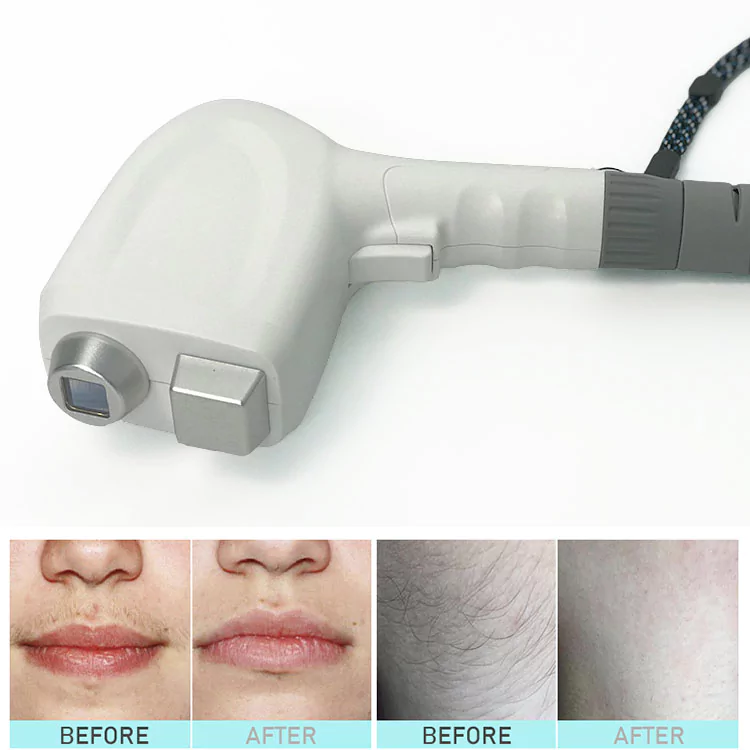 The advanced Laser Depilation Machine comes with below 5 features:
Painless
The unique dynamic cryoprotection system cools the skin epidermis to minus 5 degrees, effectively protecting the skin from damage, feeling refreshed and without burning and tingling.
Fast
The large treatment spot with  the extremely fast treatment speed 10 flashes per second can carry out large-area hair removal with high efficiency and speed, greatly shorten the treatment time to 10-15 minutes for full legs.
Safety
Diode laser 808nm wavelength directly hits the melanin of the hair follicle, and the epidermis absorbs less energy, so there is no loss of surrounding tissue, inflammation and melanin deposition.
Permanent Laser Depilation Effect
The carefully designed laser pulses can directly enter the dermis and be absorbed by the melanin particles in the hair and follicles, producing a photothermal effect, completely destroying the hair follicles and hair shafts, resulting in permanent hair removal.
Additional Skin Rejuvenation Functions
Besides all above advantages this Laser Depilation Machine in hair removal, it also has 5 additional skin rejuvenation functions, including skinwhitening and skin tightening.