Stelle Laser is professional manufacturer for Diode Laser and diode related machines.
We do not do a lot types, we only focus on Diode Laser hair removal machines, from 1 handle to 4 handles, for portable to vertical.
Such as 1 handle Diode Laser, 2 handles diode + IPL or diode + nd yag laser machine, 3 handles diode laser + nd yag + Elight IPL SHR, 4 handles diode laser + nd yag + Elight + RF.
We are very professional in diode lasers. you can see our website is www.diode-laser.com.
As you can see, even just 1 handle diode laser we have so many different designs and handle options. In the market, there is no any one else can be as professional as us in diode laser hair removal machine.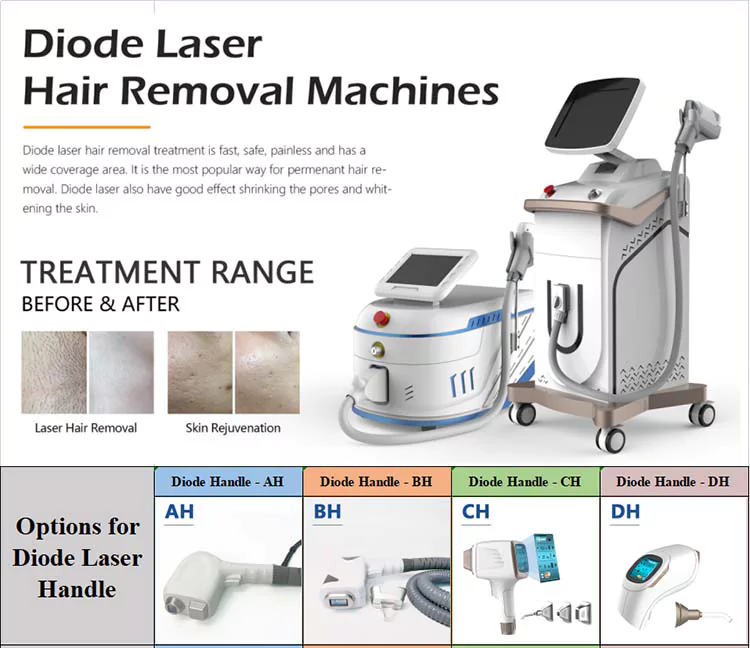 Now we offer 4 different generation diode laser handles for client to choose from:
AH is best in price.
BH is best in power.
CH is best in both power and the fancy technologies.
DH is best in fancy technologies and price.
They all have very good hair removal effect, CH is the most advanced generation, but even till today still over half of our orders are for the classical AH, because even AH already has amazing hair removal effect. So please just see which one you like more, no need to worry about hair removal effect, because all 4 generations have very good hair removal effect.
These 4 different handles can cover all client ranges.
If you only care for the hair removal effect and need most affordable price — Please choose AH.
If you pursue the high power with bigger spot size and fast hair removal speed — please choose BH
If you are a very high-end professional clinic and now want not just high power and fast hair removal speed, but also want the best technology — please choose CH
If you want best technology with lowest price — please choose DH

diode laser AH - Classical Ice Cooling hair removal machine
diode laser BH - Large spot fast hair removal machine
diode laser CH - most advanced intelligent depilation laser
diode laser DH - smart light affordable hair reduction device
If you looking for professional and high quality diode laser machines or reliable manufacturer, please don't hesitate to contact us!