Summer is coming, so hair removal treatment now is very popular. Many salons hope to buy a professional machine for hair removal to enlarge their business, but they may wonder, which shall I choose, diode laser or IPL? and what is the difference between Diode Laser and IPL?
Today we're gonna to explain these questions and hope can be helpful for our clients to choose the most proper machine.
When talking about hair removal, the basic working theory of diode laser and IPL are similar – their energy been absord by the hair follicle melanin and therefore breakdown the melanin and achieve the hair removal effect. But what's difference? They difference mainly are listed below:
To Sum Up, See Below Chart:
| | | |
| --- | --- | --- |
| / | Diode Laser | IPL |
| Technology | LASER technology | Intense Pulse Light technology |
| Emitter | Laser stack | UK xenon lamp |
| Spot Size | Usually smaller than IPL | Usually larger than diode laser |
| Function | Laser hair removal | Multifunctional including: Acne treatment Facial thread vein treatment Pigmentation treatment Skin rejuvenation treatment Hair removal treatment |
| Lifespan | 20 million shots | 1 million shots |
| Session | 3-6 sessions get permanent hair removal effect | 6-10 sessions get permanent hair removal effect |
| Price | 2-4 times higher than IPL machine | Cheaper |
Which Shall I Choose? Buy Diode Laser Or Buy IPL?
Here is my suggestion:
– If you only looking for a professional hair removal device, then please do not hesitate and directly choose our diode laser, especially the third generation intelligent diode laser shown in the video, which is our most advanced diode laser with 3 replaceable treatment tip (15*30mm, 15*15mm, and phi 8mm) for all areas treatment, and with intelligent linkage and smart pre-set parameters.
– If hair removal is only one of the small business in your whole treatment range of your salon, or photo rejuvenation / facial broken capillaries / pigmentation treatment / hair removal treatment are similar important for you. Then please choose IPL.
– If you want diode laser for hair removal and meanwhile also want photo facial of IPL, then our multifunctional machine with both diode laser system and IPL system is more suitable for you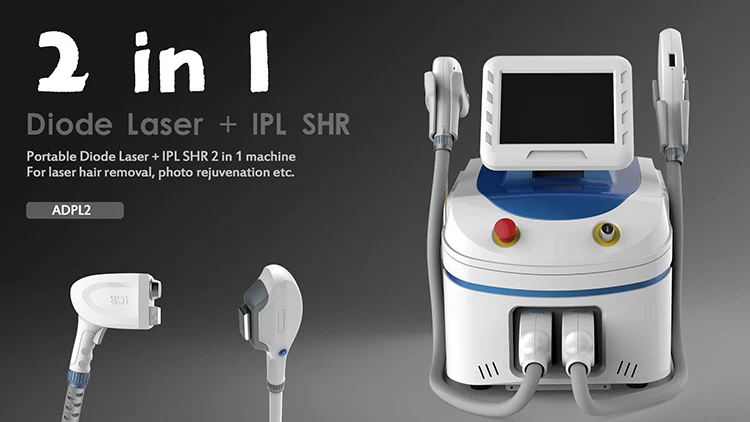 No matter which machine you prefer, we hope you can choose the one you like most. If need any further help, please don't hesitate to contact us to get the best price!