For diode laser hair removal machine, in market there are 2 types most popular : diode laser 808nm, and diode laser 3 waves.
808nm & 3 waves laser: What Are The Difference And Which Is Better?
Diode 808nm refers to the diode laser machine with fixed 808nm wavelength.
3 waves laser refers to diode laser machine with triple wavelength that working together: 808nm, 755nm, and 1064nm.
Now the main stream thinks 3 waves laser is better, because triple wavelength is suitable for all kinds skin and hair types, while 808nm is mostly for fast hair removal.

As we know the light wavelength have the property that
The longer the wavelength, the deeper the penetration, and the lower energy absorption;
The shorter the wavelength, the higher the energy absorption, and the higher energy absorption.
Each wavelength light has its main treatment range:
808nm is the fastest wavelength in hair removal,
755nm has great result in thin hair removal,
while 1064nm is mainly for hair removal in dark or tanned skin customers.
These 3 wavelengths will work together at same time.
755nm, 808nm and 1064nm wavelength lights have different penetration depth and melanin absorption ability, so 3 waves laser is suitable for all different skin types and hair types.
How To Know If The Diode Laser Is Just 808nm Or Truly 3 waves laser 755+808+1064nm?
3 waves laser diode is better and also expensiver than 808nm laser. But they looks just same from outside. This caused some bad companies in the market using diode 808nm to pretend as 3 waves laser to sell. (There are a lot of scams in buying beauty lasers. Read here to see more: SCAMS IN BUYING LASER BEAUTY MACHINES)
So how do you know if you are buying really 3 waves laser or just a 808nmn laser? Please see below:
Notice:
In the market there are laser stack with 6 bars, with 10 bars, with 12 bars.
Below article is based on 10 laser bars Diode Laser stack, because 10 bars Diode Laser is most classical one.
How to know if the machine is just 808nm or truly 755+808+1064nm?
There are totally 10 laser bars. triple wavelength refers to 3 bars for 808nm, 3 bars for 755nm, 4 bars for 1064nm, totally 10 bars. The sequence of laser bars is as below:

The 1064nm is invisible light, so you can not see the facula of 1064nm, you can only see 808nm and 755nm facula, you can see totally 6 light strips:
And after we added the Sapphire crystal (an expensive crystal directly contact the skin for skin cooling. Only few company will add sapphire to the Diode Laser) to the handpiece, due to the light refraction, you can only see 3-4 lights, but from these 3-4 lights, you can still know this is triple wavelength facula:
808nm facula and 808+755+1064nm facula is very different, below is diode 808nm laser light:
Many companies use 808nm diode laser to sell as triple wavelength diode laser.
This is because most customers only know triple wavelength is better, but don't know how to see if it is really triple wavelength 755 808 1064nm 3 in 1 or it is just 808nm.
The price for true triple wavelengh laser bar module is about 700-1000 USD higher than just 808nm. So some irresponsible company use 808nm diode laser to sell as triple wavelength diode laser (in a pirce that much higher than 808nm, but a bit lower than really triple wavelengh, so that some customers will think their machine is cheap and will buy from them. But customers don't know actually they spend a much expensive price only get a 808nm diode laser )
So here we posted how to know if the machine is just 808nm or truly 755+808+1064nm. Hope customers can learn this method so that will not be cheated by anyone.
We are not only a company manufactuering and selling  beauty devices, we are also a company willing to offer variaties help.
If you have anything uncertain about the beauty laser machines, you are welcome to consult us for professional help. It is totally free. We hope every customer can buy the good machine in a reasonable price  🙂
Recently our 3rd generation intelligent diode has launched to the market.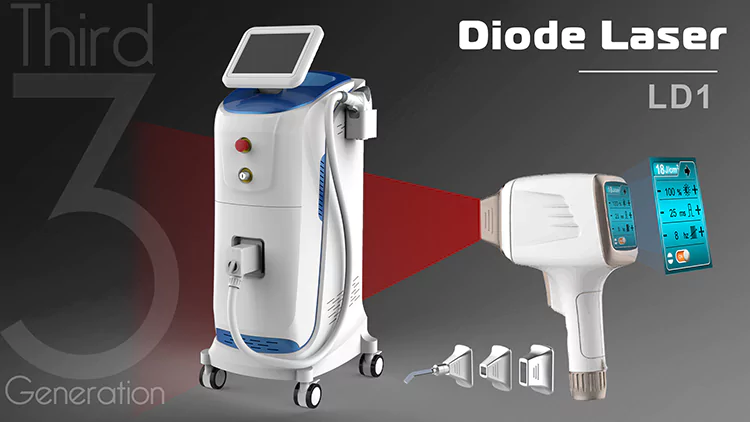 It has below unique features:
– Intelligent recognition of 3 different tips and give most recommended parameters automatically
– Handle inbuilt real-time monitoring module
– Super power 1200W
– Big LED screen easy operation
– 360°Super cooling
– More spot sizes available
We have already gained countless positive feedback from global clients. Contact us now to get more details for this model!