Both Diode Laser and IPL machine can do the treatment of hair removal and skin rejuvenation. But the price of such 2 machines is very different.
If you wants to buy a hair removal machine but do not know what to choose, this article will help you to get some basic knowledge and make the decision.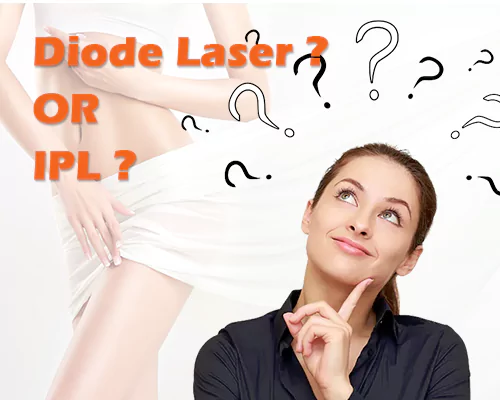 Diode Laser is using laser technology, with a fixed wavelength 808nm or the fixed triple wavelengths 755nm + 808nm + 1064nm to do the hair removal treatment.
While IPL is short for intense pulsed light technology. It using a section wavelength to do the treatment. For example, the most famous know IPL 530nm for photorejuvenation treatment actually is short for 530nm-1200nm, and the SHR 640nm for super hair removal actually is short for 640nm-1200nm.
The different technology made them different strength.
Diode Laser is considered as the most professional and effective choice for permanent laser hair removal, while IPL is more well known for photorejuvenation and multi treatment.
As you may know, the light wavelength have the property that:
The longer the wavelength, the deeper the penetration, and the lower energy absorption;
The shorter the wavelength, the higher the energy absorption, and the higher energy absorption.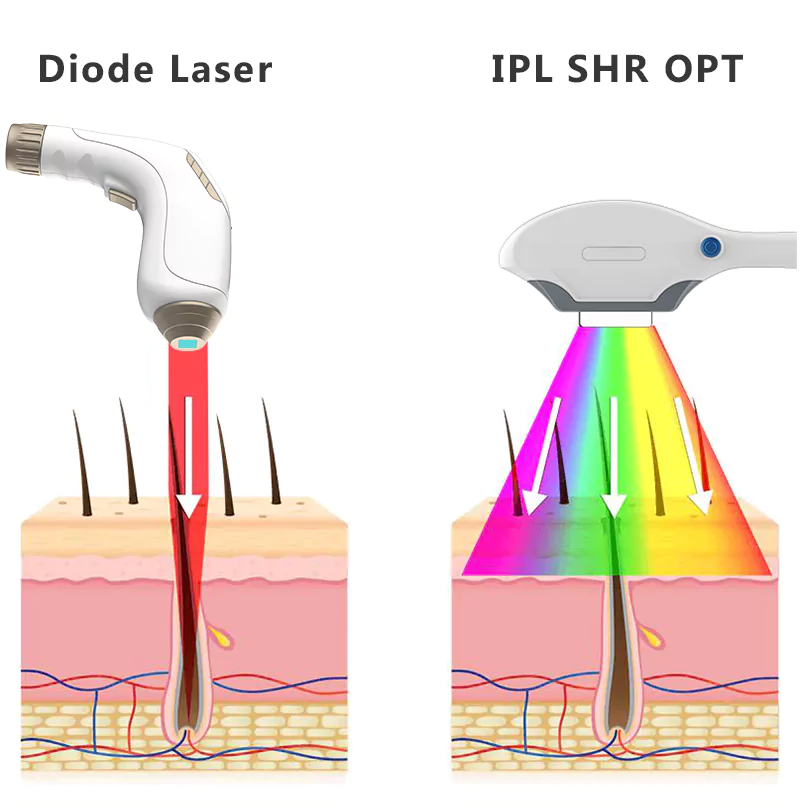 To be short, diode laser's fixed wavelength (808nm) goes down to hair follicle most, and can target in the follicle well to breakdown the black melanin in the follicle and thus reach the permanent hair removal effect. While IPL is using section wavelength. Take 640nm-1200nm for example, this section wavelenth includes the wavelength that can target in the hair follicles, and also includes the wavelengths that target in the vasculars, or the surrounding tissues, pigmentations etc..
Let's imagine diode laser 1 shot and IPL machine 1 shot carries same energy. Most of diode laser's energy is targeted in hair follicles. While for IPL will be some energy focus on hair follicles, some energy focus on vasculars, some energy focus on pigmentation etc. This will lead to IPL hair removal effect will be not as good as diode laser. IPL will takes more sessions to get permenant hair removal effect, but diode laser only require 3-6 sessions.
But this is also the strength of IPL. It can not just do the hair removal, it has effect on most of the skin problems.
From the cost, diode laser is usually 2-3 times expensiver than IPL. But from lifespan, diode laser is usually 20-30 times longer than IPL. So if check each shot's cost, actually diode laser is much cheaper.
Shall I Choose Diode Laser Or IPL?
1. If you are a professional depilation salon, hair removal is very important treatment for you, then choose diode laser without any hesitation. Choose the 2nd generation or the latest generation for your salon. These machines have much higher power and more bigger spot size can save half time in the treatment. If your budget is ok, choose the latest one.
Below are the recommended models:
2. If you are mainly a hair studio or nail / lash salon, you want hair removal function and also want other functions like photorejuvenation, or acne treatment etc, then please choose IPL machine or the portable 2 in 1 machine, diode laser first generation + IPL (depend on how important is hair removal for you). Below is the recommened model:
3. If you are a comprehensive salon with many treatments and hardly to say which is more important, or you hope to buy one machine to cover as much as possible functions, then i suggest our multifunctional machine to you.
With such 4 in 1 laser, one machine can cover over 10 different treatments, including laser hair removal, Acne treatment, vascular treatment, Photo rejuvenation, Skin whitening, Pigmentation treatment, Tattoo removal, Mole removal, Carbon peeling (or Hollywood peel), Wrinkle removal, Body lifting etc..
Below is the recommened model: